Heyo Everyone,

So I've gotten to speak with a bunch of you and its really great to talk to you guys again, I've missed you

So much has happened since I wrote my journal back in August and I have been wanting to tell you guys what has been going on for a bit but haven't found it in me to write this until now. To tell you the truth it was a bit hard to write this, though after leaving this here and coming back to it now after a couple of days ~ I think I am ready

The last couple of months have been filled with uncertainty and I've felt a bit like everything was falling away from me at times. You see, I was being told that I had to leave the house I live in by the end of the year. Along with the rest of my family including my aunt, grandmother and my mom. So I've been struck with a lot of fear in a sense that I hadn't known where life would take me. Life felt formless in a sense. Then along came the idea of my aunt's. She wanted to use this opportunity to secretly buy this house from its owner. Needless to say this was underhanded and was sneaky; she was trying pull the strings of her own family to get what she wanted. There was something about this, something that just wasn't right about her and I felt it ~ though I just didn't know exactly what it was.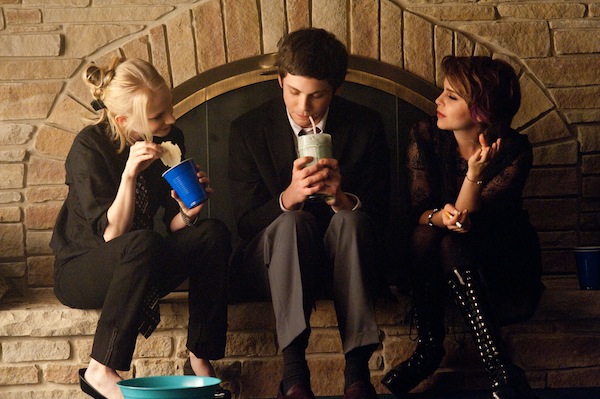 *Spoilers Below*
After a couple of months of this, my friend Tara and I went to see
Perks of Being a Wallflower.
I don't know if any of you have seen it, but I absolutely loved it. It made me feel all kinds of weird, but I loved it and AAAAHHHH Patrick!! but yeah

Back on topic

As the story progresses; You know something has happened to the main character Charlie as he has black outs throughout the whole story. You find out later in the story that he was molested as a child and the build up to the end is really interesting and intriguing to me as it was sort of seen through his mind in a sense. It gave me all kinds of headaches for about a week from seeing that movie. And I soon realized later what it was, why this made me feel so weird to say the least.
I
had been molested as a child, by my
aunt
.
It was alot to accept, and still is. It was a memory that I sometimes had access to though even when I did, I had no real connection to it. I'm still coming to terms with it. Though, it has also connected alot of things that happened afterwards, alot of things I have blamed myself for for awhile. Its made me realize so much. And oddly enough has led me to being grateful for so many things. And now, to be able to say this to you guys ~ its really
really
makes me happy. Sometimes I see her and I am totally and utterly disgusted and frightened by seeing her ( which is why I wrote
kraken
) and other times, I'm angry. Much of the time I'm lost ~ though, Alot of the time ~ Ive found this sense of liberty and freedom. This feeling that this isn't me and its not my fault. Like all these feelings I have been having for years are not all a lie conjured in some far off land. Its also empowered me and allowed me to see that I am so beyond this and it does not define me. It doesn't mean there won't be times where I will cry and feel like I just want to run from it all. Its left me uncomfortable at times and other times, I just don't know how to feel,
but it is not who I am
.
Soooo this has led me to wanting to finally write my book that I keep talking about. Nothing that anyone can do is ever going to stop me. There are people that support me and love me and your continued support is proof of that. It really means so much to me. I really want to thank you guys


All this has just led me to
realize
how true the final words of
Perks of Being A Wallflower
are . . .
" I don't know if I will have the time to write anymore letters because I might be too busy trying to participate. So if this does end up being the last letter I just want you to know that I was in a bad place before I started high school and you helped me. Even if you didn't know what I was talking about or know someone who has gone through it, you made me not feel alone. Because I know there are people who say all these things don't happen. And there are people who forget what it's like to be 16 when they turn 17. I know these will all be stories someday. And our pictures will become old photographs. We'll all become somebody's mom or dad. But right now these moments are not stories. This is happening, I am here and I am looking at her. And she is so beautiful. I can see it. This one moment when you know you're not a sad story. You are alive, and you stand up and see the lights on the buildings and everything that makes you wonder. And you're listening to that song and that drive with the people you love most in this world. And in this moment I swear, we are infinite. "
~ Charlie
Thank you guys for always listening,
~ violet